Why building an email list is important? And How to start?
Are you thinking of creating an email list, but in a dilemma about why it is needed? Well, most of the beginners don't give much importance on building email list when they're first starting out. In this article, we will share some ideas about the email list and why building an email list is important. We will also go through how to start building your email list (step by step). The benefits of building an email list are too great and also have a mind-blowing impact on your website's traffic and revenue.
What is an Email List?
An email list is a list of names and email addresses of people who gave you permission to send them updates and promotions from your business. The email list can be used to send out business announcements, new blog posts, and to sell your products or services. With the help of an email list, your customers/visitors can receive information, discounts, updates, and other details about your business in a digital format.
Email lists play an important role in the email marketing field as it is the best way to connect with customers. The email is more effective than Facebook or Twitter at acquiring new customers.
What is Email list building?
An email list is the list of names and addresses of people and email list building is the act of getting more people to subscribe to your emails. You can add CTA on your homepage as it will help to build up your email list. The stronger email list can be one of the ways to encourage visitors to subscribe to your email. So, it's very important to work on email list building if you want to take advantage of connecting with customers through your compiled email lists.
What do you need to start building an email list?
Now, I think you know why it is important to build an email list. Let's talk about the things you need to build an email list:
A website or blog.
An email marketing service.
High-converting opt-in forms
These are the things needed for building an email list which is easy to set up and doesn't require coding or design skills.
Why do you need to build an email list?
Email lists are very important so here are some reasons why you need to build an email list:
You can connect with your audience directly who are interested or gave you permission to send them the news, promotions, and updates in their email.
You have full control over your list whereas you don't have full control over your social media accounts as you don't "own" them.
Your social media and list can work together to generate customers for your blog or business. Most of the people are not ready to buy when viewing accounts on social media or visiting a website. So, don't let them forget about you after they visit your site, you can use your list to remind them of what you offer to solve their problems.
The email lists increase revenue and traffic. Email lists generate ten times higher conversions compared to social media campaigns.
Email lists can be highly targeted. You can easily send out specific emails to specific subscribers. And also, have the power to delete the subscribers who are not interested.
Custom email addresses are number one in online marketing. All social media platforms ask for anThe Email address is valuable because of this all the social platforms ask for an Email address. You can find more than 5.5 billion active Email accounts, and around 3.4 billion active Social media users.
How to build an email list? Step by Step
It will take some time while building an email list because it is an on-going process. Also, a few tools are needed to build your own email list like subscription forms, convertible optin popups, a website or personal blog, an email marketing software, etc.
If you already have a website or blog, then it's better, to begin with, MailChimp.
MailChimp is a service that collects and organizes your subscribers for you. Also, it is helpful to keep a record of your subscriber statistics that will let you know when you had the most and least influx of new followers. This is a perfect tool for those who want to make the most out of their website.
Step 1: Create/Join the Chimps account
First, you need to create a MailChimp account. You can easily create an account for free. Just sign up here.
Step:2 Integrating WP Popup Lite with MailChimp
Once you have got your MailChimp account, now you need to install WP Popup Lite to your website. If there will be any problems with the installation, you can also take a look at the Documentation.
Step:3 Preparing the Audience
After you have set up your account and installed the plugin, now you are ready to start assembling your email list in WordPress. MailChimp will keep track of your subscriber's email accounts, but first, you need to create an audience so it knows where to store the data. From your MailChimp dashboard select "Audience" and then "Create Audience".

Then, you can name your audience with the word that will help you remember it after you return to your WordPress dashboard.
Step:4 Configuration
Once you create a list/audience in MailChimp, just return to your website's dashboard to connect MailChimp List and Subscription Form. Here, I'll be integrating MailChimp with Subscription form created with WP Popup Banners Pro plugin. Now click to Popup Settings and External Mail Settings. There you have to insert the MailChimp API Key in the box (There is a link to get the MailChimp API key). Then click the save settings button.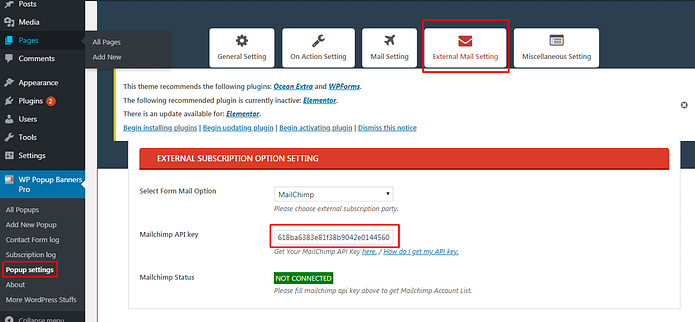 Step:5 Subscription Form
To connect any subscription form or other forms you created using WP Popup Banners plugin with Mailchimp, Open the particular form.
In Form Setting,
Go to Submit Form as >> External Party Subscription
There all the list you created in MailChimp will be shown. Choose your list and save the setting.

How to manage and maintain your Email list?
It is very important to keep your email lists organized if you want to have a successful email campaign. If you have lots of email subscribers on your newsletter list but was unable to open your emails with some reason then your open rate is going to be low that will skew your results.
So, here are some ideas that will keep your lists organized:
Segmentation
Segmentation is separating email lists that is based on personalized preferences. You can segment their emails on any personalized information they provided. For example:
User demographics — geographical location, gender, age, etc.
User email update preferences — event details, newsletters, discounts
Purchase history
Analyze email list data
You can easily track your users if they click through the links in the email you sent them. Once, they open the email that you have sent, it can be tracked. Also, they can be tracked if they interacted with your email in any way.
Just stay on top of your email list data to build an effective and successful email list.
Re-engage old contacts
If you have lots of inactive subscribers in your email list data then send them a re-engagement email. It is also possible that they just need a break from your emails that's why aren't looking to unsubscribe entirely.
It is true that re-engaging old contacts is cheaper than spending money on new visitors to convert them into email list subscribers.
Wrapping Up
An email list is perfect for the bloggers and business owners as it helps to increase traffic and sales. But if you are not thinking of selling products or services, then you probably don't need an email list.
We use Mailchimp for our email newsletters so what about you?
Have any questions about building your email list? Or do you have your own email list? Share your feedback with us.